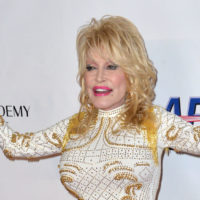 During a recent interview on ABC's The View, Dolly Parton revealed the famous names that are set to appear on her upcoming rock album, which features a mix of rock cover songs and originals. Among the guests on Dolly's rock album are Paul McCartney, Stevie Nicks, Steven Tyler, Steve Perry, and John Fogerty. Titled Rock Star, the album will see Dolly cover classic songs by the likes of Prince, The Rolling Stones, Led Zeppelin, and Lynyrd Skynyrd. It is set for release later this year.
Said Dolly: "If I'm going to be in the Rock & Roll Hall of Fame, I'm going to have to do something to earn it, so I'm doing a rock and roll album and I have a lot of the rock stars I met that night be on it with me."  She also confirmed she's recorded a version of The Rolling Stones' "Satisfaction" and is hoping frontman Mick Jagger will sing on the track with her: "Well, I'm doin' my best to try to get him on, but I did his song anyway. I think Pink and Brandi Carlile are gonna be singing on that particular song with me. But we got great artists like Paul McCartney is singin' with me… Stevie Nicks, we just finished our song last night. We got John Fogerty. We got Steve Perry and Steven Tyler. We got a lot of great artists — iconic singers that are going to be on with us so I'm really looking forward to it. I'm going to have Cher on. I've been gettin' a song for her. We've been tryin' to get the right thing together, but that's goin' to be a big thrill, I think."
Last month, Parton revealed that she's also hoping Elton John will appear on the project and has recorded a cover of Led Zeppelin's "Stairway to Heaven" with hopes that Robert Plant and Jimmy Page will join her.
Editorial credit: Featureflash Photo Agency / Shutterstock.com