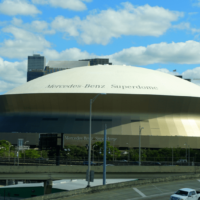 Caesars Superdome, the home of the New Orleans Saints, caught fire on Tuesday afternoon. At 12:40 CT, fire and smoke began emanating from the roof of the Superdome; the New Orleans Fire Department responded to the three-alarm fire at the Superdome shortly after. Local officials said workers were power washing the roof this week to prepare it for painting and workers have also been in the process of switching the Superdome's exterior logo from its old sponsor, Mercedes Benz, to its new one, Caesars. New Orleans Emergency Management Services said on Twitter that it was transporting one person to the hospital for minor burns.
ASM Global VP of stadiums Doug Thornton said that the fire occurred in a section of Superdome roofing called the "gutter tub." Thornton told the newspaper that they were assessing the damage but so far it did not appear that the structural integrity of venue had been compromised.
The Saints next home game at the Superdome is scheduled for Oct. 3 vs. the New York Giants. The team's final preseason home game on Aug. 28 was canceled due to impending Hurricane Ida, forcing the Saints to play their season-opener against the Green Bay Packers in Jacksonville. Since the hurricane, the team has been practicing in the Dallas area.
Editorial credit: Khairil Azhar Junos / Shutterstock.com