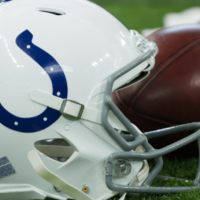 Indianapolis Colts quarterback Carson Wentz suffered sprains to both ankles during Sunday's loss to the Rams. Wentz exited the game after his right ankle got rolled up on when defensive tackle Aaron Donald hit him in the fourth quarter; the QB is undergoing further testing to determine the severity of both injuries.
After Sunday's game, Wentz said that he didn't think his ankle was broken, adding that he'd look to do everything possible to be available for next week's game against the Titans. He missed a few weeks of training camp when he had surgery on his left foot, and also missed a few days of practice while on the COVID-19 list for being a close contact of someone who had tested positive.
Through two games this season, Wentz has completed 65.2 percent of his passes for 498 yards with three touchdowns and one interception.
Editorial credit: Jamie Lamor Thompson / Shutterstock.com