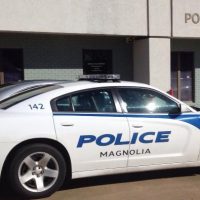 A 16-year-old boy from Magnolia was killed Friday night in Magnolia. Magnolia Police Chief Todd Dew released the following information at 2:45 p.m. Saturday:
    "On December 4th, 2020 at approximately 10:52 p.m., Central Dispatch received a 911 call from a person reporting gun shots at Preston Apartments on Renfroe Street in Magnolia. Magnolia Police were dispatched along with Columbia County Ambulance Service. Officers arrived on the scene and found a 16-year-old male, who was the victim of a gunshot wound to his chest. The victim was taken to the Magnolia Regional Medical Center, where he later passed away.
    Magnolia Police began an investigation into this incident, advised surrounding agencies of the incident and information discovered as a result of the investigation. On December 5th, 2020, a Camden Police officer conducted a traffic stop of a vehicle that had been reported stolen. That traffic stop led to the discovery of evidence from the Magnolia homicide, and the arrest of a 16-year-old male for the murder of the juvenile in Magnolia.
    The investigation of this case is still ongoing, and anyone with information about this incident is asked to contact Magnolia Police detectives. Contact can be made by calling 870-234-5655, 870-234-3765, or on the Columbia County Sheriff's Department Website Tip Line.
    Magnolia Police have been assisted by the Columbia County Sheriff's Department, Southern Arkansas University Police Department, and the Ouachita County Sheriff's Department."