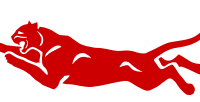 The Magnolia Panthers will host the Greenbrier Panthers at 7 p.m. on Friday, November 20th in the second round of the 5A State Football Championships. The Magnolia Panthers beat Pea Ridge 56-21 last Friday, and Greenbrier was a 43-28 winner over Brookland.
     Tickets will ONLY be sold online. You will NOT be able to purchase tickets with cash at the gate.
     Senior passes and teacher passes from Magnolia Schools are NOT valid for playoff games per AAA guidelines. Seniors and teachers must still purchase their tickets ONLINE. The only passes that will be allowed for entry are AAA passes.
     To order your ticket(s) now, click the link below:
     The winner of Friday's Magnolia/Greenbrier game will face the Pulaski Academy/Farmington winner on November 27th.
GO PANTHERS! (MAGNOLIA PANTHERS, THAT IS)  GOOD LUCK IN THE PLAYOFFS!