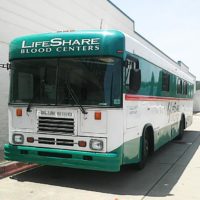 LifeShare Blood Center has declared an emergency blood need following Hurricane Laura. LifeShare says that surgeries, including transplants, have been put at risk because of the blood supply shortage.
Blood Drives scheduled in our area include:
Walmart- Magnolia: Thursday, Sept. 3, 1 – 6;
Walmart- Magnolia: Sunday, Sept. 6, 2 – 6pm;
Taylor High School: Tues Sept. 8, 8:30 – 2:30pm;
Walmart- Magnolia: Sunday, Sept .13, 12 – 5:30pm;
Bradley High School: Monday, Sept. 14, 8:30am – 2:30pm.
LifeShare is also operating on extended hours at all of its donor centers. All donor centers will be open this week Monday-Friday from 8am-6pm and on Saturday from 8am-3pm. To search for other mobile drives, go to LifeShare.org or the LifeShare app.
Businesses and churches that want to help are urged to call LifeShare and schedule a blood drive. LifeShare has been taking extra safety precautions since the outbreak of COVID-19. Thus far, there are no reports of a LifeShare team member or LifeShare donor contracting the virus from interacting with each other during the donation process. Donating blood is as safe as it ever has been.
LifeShare doesn't use the word "emergency" very often. The last emergency appeal was issued more than 15 months ago.