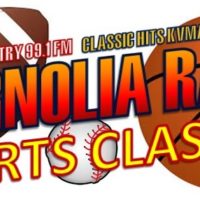 Join us again this week for more Magnolia Radio Sports Classics on MAGNOLIA'S COUNTRY 99.1 FM. Yes, this is our final weekend of Sports Classics. We're keeping our fingers crossed that we'll be back in the booth for live action in the fall, and hope to see you in the seats. Of course, that is all still to be decided. For now, let us enjoy a couple more Magnolia Radio Sports Classics. Our old buddy, the late Jay Adcox joins me with the call Friday night, and Ryan Phillips is alongside for Saturday's game. (Ryan will take offense if I call him an OLD buddy.)
Here is our schedule this week:
Friday, May 15th at 6:00 p.m. – 2009 was Bill Keopple's first year as head football coach at Southern Arkansas University. Coach Keopple is now the winningest football coach in SAU history, but at the time of this game, he was looking for his first SAU win. The date was September 17th, 2009. The Muleriders were hosting West Alabama, and it turned out to be a long night.
Saturday, May 16th at 1:00 p.m. – Southern Arkansas University Mulerider Baseball against the Oklahoma Baptist University Bison in the Championship Game of the 2018 Great American Conference Tournament. On May 8th, 2018, SAU came into Championship Tuesday needing to beat Oklahoma Baptist twice for the crown. The Muleriders won the first game 5-2. Could they do it again?
Join us on Magnolia's Country 99.1 and online at MagnoliaRadio.com
The new Magnolia Radio app is available on Android. But, unfortunately, at the moment I'm typing this, the iPhone app is not yet available. You may need to manually install the new iPhone Magnolia Radio app when it is available. But, SORRY, it is not available yet.