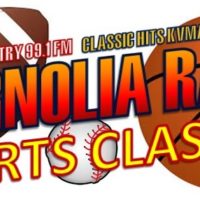 Mulerider football suffered a slump from 2006 through 2011 with no more than 3 wins in a season during that 6-year span. But in 2012, SAU got 3 wins in their first 3 games, and then they were off to Monticello in search of their fourth straight win. We'll have that game Friday night.
Then Saturday, we'll be in Millington, Tennessee for the 2006 Gulf South Conference Baseball Tournament. SAU and West Alabama had already met twice in the tournament; the Muleriders won the first meeting, but the Tigers came back to take the next game. It was only fitting that they would meet one more time for the championship. We'll have that game Saturday afternoon.
Here's our schedule:
6:00 p.m. Friday: SAU Mulerider football vs. the UAM Boll Weevils from 9/29/12
1:00 p.m. Saturday: SAU Mulerider baseball vs. the West Alabama Tigers from 5/11/06
We hope you enjoy our Sports Classics this weekend.
Spread the word & SPREAD OUT! Continue your social distancing and be safe?
And thanks for listening!