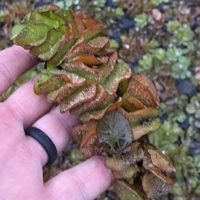 The following is a press release from the Columbia County Rural Development Authority, which manages Lake Columbia:
FOR IMMEDIATE RELEASE:
Herbicide application is scheduled for the week of March 30th on Lake Columbia. The Columbia County Rural Development Authority (RDA) has contracted with Lochow Ranch Pond and Lake Management LLC (Lochow) of Bryan, Texas to treat the invasive plant, giant salvinia, which was recently discovered on Lake Columbia.
Lochow has extensive experience treating giant salvinia; they have been treating Caddo Lake and Toledo Bend since 2016. Lochow will use spray boats with high pressure pumps to treat the giant salvinia with a mix of two herbicides, Clipper SC (flumioxazin) and Galleon SC (penoxsulam). Both herbicides are registered with the Arkansas State Plant Board; neither has a consumption restriction.
Lake Columbia will remain open to recreational activities during the herbicide application. But the RDA requests that fishermen, boaters and others steer clear of the spray boats when they are applying the herbicides. If you are in the path of the spray boats, please move to allow a thorough treatment. After the spray boats pass, you may return to the area, as the herbicides dissipate quickly.
The Arkansas Department of Health (ADH) has concurred with the RDA's plan of action with the following conditions: only the two approved herbicides may be used; the treatment will be coordinated with the City of Magnolia so that the lake will not be utilized for drinking water during periods of herbicide treatment; following herbicide treatment and prior to the resumption of use for drinking water purposes, ADH will oversee sampling and analysis of the water source for the presence of the herbicides; and ADH requests that they and the public be notified of the dates of herbicide application.
The initial treatment of Lake Columbia is expected to last three days at ten hours per day. Lochow will schedule a follow-up herbicide application 3 to 4 weeks after the first application. More applications are expected to be needed in the future.
The RDA and Lake Columbia personnel continue to urge boaters to CLEAN, DRAIN & DRY to help prevent the spread of aquatic nuisance species to other bodies of water. Follow the three-step process of clean, drain and dry anytime you move to new water:
• Clean the boat, trailer and all equipment – Remove all plants and pieces of vegetation and seeds.
• Drain your boat – Remove the drain plug from your boat when you leave the water.
• Dry – Let all gear dry for at least five days before visiting new waters. If drying is not an option, spray all equipment with a high-pressure hose or hot water.
One small giant salvinia plant can multiply and spread very rapidly. The RDA and all parties involved appreciate the diligence of boaters in helping prevent the spread of this plant to other bodies of water.
Thank you,
Dan Gregory, Chairman
Columbia County Rural Development Authority