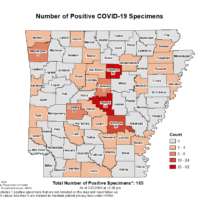 Columbia and Union County officials were informed earlier today by the Arkansas Department of Health that the first case of COVID-19 has been confirmed in each of the counties.
The following is an email today from Ellie Baker with the City of Magnolia:
"Today, March 22, 2020, the first case of COVID-19 in Columbia County has been confirmed.
Dr. Fred Murphy, Col. County Judge Denny Foster and Magnolia Mayor Parnell Vann, met to discuss the steps and precautions the public needs to take to slow the spread of the virus.
Please follow the "15 Steps to Slow the Spread" that was released by the White House last week. Social distancing as well as the personal hygiene care recommendations from the CDC are also HIGHLY encouraged by these local leaders."
Learn more about preventing the spread at the CDC website: https://www.cdc.gov/coronavirus/2019-ncov/index.html and at the Arkansas Department of Health: https://www.healthy.arkansas.gov/
Information is also available at Governor Asa Hutchinson's Facebook page, including press conference videos: https://www.facebook.com/pg/asaforarkansas/posts/?ref=page_internal