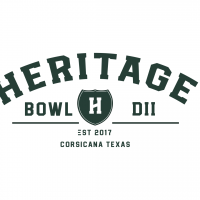 The Southern Arkansas University football team has one more game this season; it was announced today the Muleriders have accepted a bid to play in The Heritage Bowl. The game kicks off at 12 noon on Saturday, December 7th in Tiger Stadium at Corsicana High School in Corsicana, Texas. SAU's opponent will be Eastern New Mexico; the Greyhounds finished fifth in the Lone Star Conference with a 4 and 4 conference record; they were 7 and 4 overall. The Muleriders finished the regular season at 8 and 3, with all games being conference games; that was good for fourth place in the Great American Conference.
The Heritage Bowl was established in 2017; it was previously known as the Corsicana Bowl. This will be the second consecutive year that a Great American Conference team participates in the bowl. Last year, UA-Monticello lost to Emporia State 30-22.
The Heritage Bowl will be broadcast live on Magnolia's Country 99.1, online at MagnoliaRadio.com and on the Magnolia Radio app. The broadcast will begin at 11:30 a.m. on Saturday, December 7th.