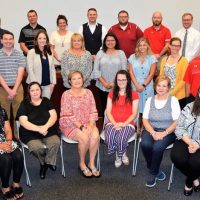 The Magnolia School District welcomed thirty-six new licensed personnel to the District at its annual new teacher orientation training on July 22.
The staff of Walker Pre-Kindergarten Center welcomes new pre-kindergarten teacher, Cynthia Cater, to their campus.
New licensed personnel to the East Side Elementary School will be Connie Browning, kindergarten; Brandi Denmon, kindergarten; Lauren Jarvis, first grade; Whitteni Lindsey, assistant principal; Eileen Lowery, third grade; Robyn Mackey, second grade; Janelle Middleton, special education; Bailey Staton, first grade; and Taegan Young, second grade.
Central Elementary School will welcome new staff members Melinda Black, sixth grade; Ariel Castleman, fourth grade; Jennifer DeLoach, sixth grade; Kendra Holley, sixth grade; Kamille King, fourth grade; Heather Laferte, sixth grade; and Cassidy Russell, fourth grade.
Magnolia Junior High School will add new teachers Dustin Bakenhus, HPE/Coach; Brianna Cowling, science; Ruby Espinoza, assistant band director; Anthony Hammonds, coach; Ryan LaFleur, assistant band director; Shelby Lamkin, mathematics; Kaitlyn Mahaffey, assistant choral director; Britany McDonald, special education; Anthony Meeker, HPE/Coach; Dillon Reed, science; Garrett Walker, mathematics; and Michael Youngblood, EAST/Coach.
New teachers added to the Magnolia High School staff are Wes Ables, HPE/Coach; Melissa Chandler, science; Rachel Fish, EAST; Morgan Gardener, science; James Kotarek, director of bands; Ben Lindsey, head basketball coach, and Alix Tiegs; audio/visual technology and communications.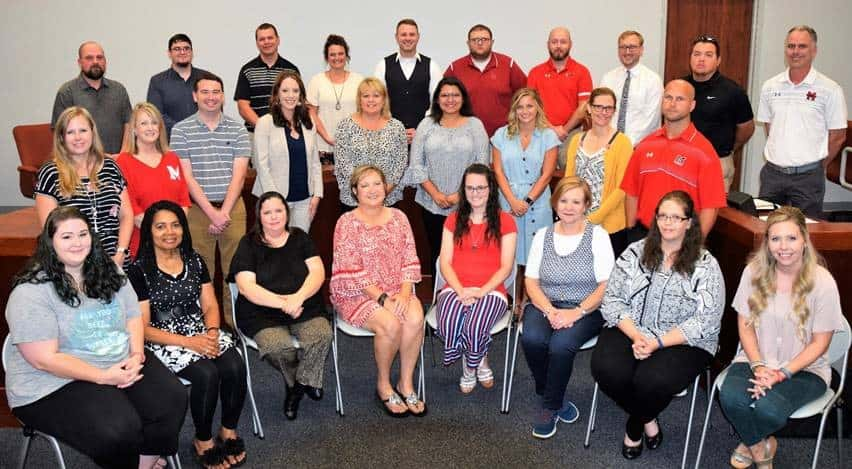 Seated left to right:
Melissa Chandler, Eileen Lowery, Britany McDonald, Melinda Black, Robyn Mackey, Cynthia Cater, Rachel Fish, and Ariel Castleman
Middle left to right:
Kendra Holley ,Connie Browning, Ryan LaFleur, Whitteni Lindsey, Shelby Lamkin, Ruby Espinoza, Taegan Young, Heather Laferte, and Wes Ables
Back left to right:
Anthony Meeker, Dillon Reed, Anthony Hammonds, Whitney Epperson, James Kotarek, Garrett Walker, Michael Youngblood, Alix Tiegs, Dustin Bakenhus, and Ben Lindsey
Not Pictured:
Jennifer DeLoach, Brandi Denmon, Morgan Gardner, Lauren Jarvis, Kamille King, Kaitlyn Mahaffey, Janelle Middleton, Cassidy Russell, and Bailey Staton
From: Scott Nipper
Special Programs Coordinator
Magnolia Public Schools