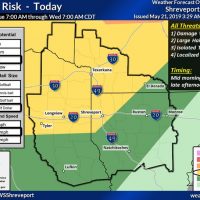 SEVERE WEATHER RISK
Hazardous Weather Outlook
National Weather Service Shreveport LA
1156 AM CDT Tue May 21 2019
This Hazardous Weather Outlook is for portions of south central Arkansas, southwest Arkansas, north central Louisiana, northwest Louisiana, southeast Oklahoma, east Texas and northeast Texas.
.DAY ONE…This Afternoon and Tonight…
Scattered to numerous showers and thunderstorms are expected this afternoon over much of East Texas, Southeast Oklahoma, Southwest Arkansas, and possibly extreme Northwest Louisiana, before spreading east into Southcentral Arkansas and Northcentral Louisiana this evening. This will occur as an upper level disturbance ejects northeast across Northeast Texas, Southeast Oklahoma, and Southwest Arkansas this afternoon, ahead of the dryline that will mix east into Eastcentral Texas. Given the extent of instability, wind shear, and low level moisture in place, an isolated severe weather threat will be possible, with damaging winds, an isolated tornado or two, and brief heavy rainfall possible. These storms will shift east and gradually diminish tonight over Deep East Texas, North Louisiana, and Southcentral Arkansas.
In addition, strong southerly winds of 15 to 25 mph with gusts to 35 mph will continue this afternoon, before diminishing by early evening. Thus, a Lake Wind Advisory remains in effect until 7 PM this evening.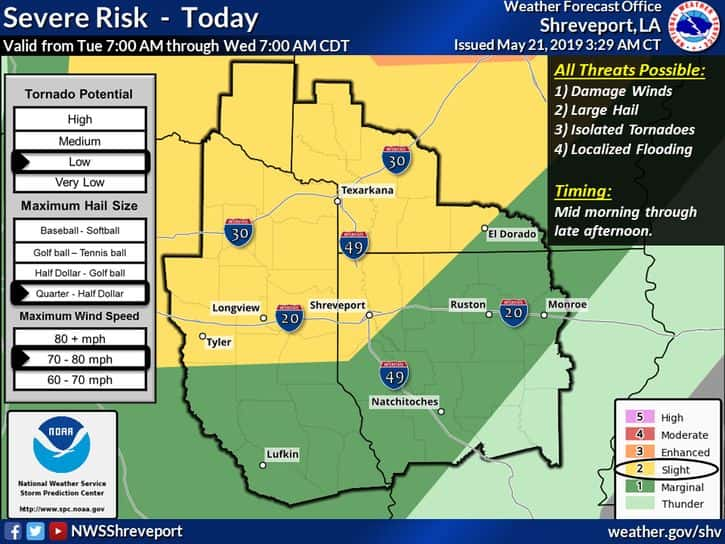 There is a risk for severe weather as a line of thunderstorms moves across the area today. Damaging winds and large hail will be the primary threats. An isolated tornado cannot be completely ruled out. Locally heavy rainfall may also lead to isolated flash flooding. The greatest risk for severe weather will be from the mid morning hours through the late afternoon.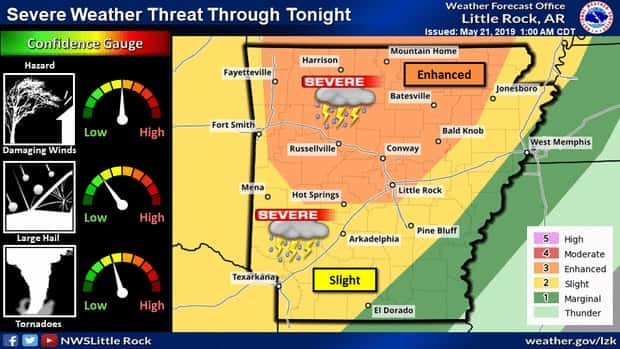 Strong to severe thunderstorms will remain possible through tonight. Damaging winds and a few tornadoes will be possible with the strongest storms. Large hail may also be seen, along with locally heavy rainfall.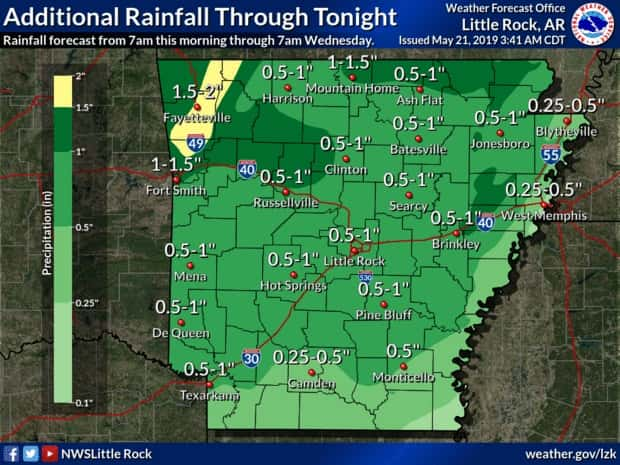 Additional rainfall amounts will range from near 2 inches across the northwest portion of Arkansas, to generally 1.5 inches or less elsewhere. The lowest amounts will be across southern Arkansas, where less than a half in is expected.