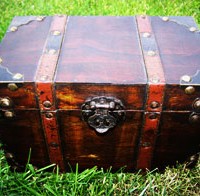 MAGNOLIA BLOSSOM FESTIVAL TREASURE HUNT
SPONSORED BY PEOPLES BANK
If you find the treasure, you win $400.
Here is your fourth clue:
Clue #4 – noon Tuesday, May 14:
The festival has something for everyone,
you may be up way before dawn.
Start the morning with the parade,
and end it with steak on the courthouse lawn.
Clue #3 – 7 a.m. Tuesday, May 14:
Magnolia is the place for fun.
Winning would make your day!
Do you search beneath the moon or under the sun?
Clue #2 – noon Monday, May 13:
People's Bank is our sponsor again this year,
so you better get yourself in high gear.
$400 brings the community together,
being outside will be fun, even if we have bad weather.
Clue #1 – 7 a.m. Monday, May 13:
2019 Treasure Hunt is off the ground,
don't look in potted plants or in any dirt mounds.
Always look high and low and all around,
The hidden treasure is sure to be found.
The next clue will be released at 7 a.m. Wednesday.