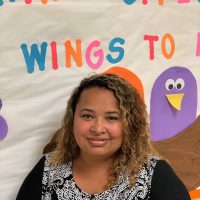 MARTIN CHOSEN TEACHER OF THE YEAR AT WALKER PK CENTER
Brandy Martin was recently chosen as the 2019 Walker Pre-Kindergarten Center Teacher of the Year. Brandy is from Clovis, New Mexico where she graduated from Clovis High School. She attended Southern Arkansas University where she graduated with a BSE in Elementary Education, an MEd in Educational Leadership, and an MEd in Special Education. She has taught seventh grade math, elementary special education, preschool, worked as a Developmental Therapist serving children with disabilities from ages birth to three years old, and is a veteran of the U.S. Army. She has worked for Magnolia Public Schools for five years. Currently, she serves as a classroom teacher at Walker Pre-K where she teaches children from age's three to five and is a bus driver for the district.
Brandy is married to Gary Martin and they have four children. Outside of work, she loves spending time with her grandchildren, family, and close friends. She is a member of New Zion Missionary Baptist Church. She also enjoys traveling and reading.
From:  Scott Nipper
Special Programs Coordinator
Magnolia Public Schools