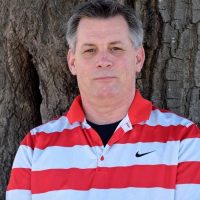 English instructor, Glenn Wootton, was recently chosen as the 2019 Magnolia Junior High School Teacher of the Year.
Glenn is a seventh grade English teacher at Magnolia Junior High School. He was born in Magnolia, but his father joined the Navy soon after he was born. As a result of his father's military career, Glenn lived in many locations growing up, such as Okinawa, Japan; Pensacola, FL; San Diego, CA; New Orleans, LA; Chicago, IL; Memphis, TN; Jacksonville, NC; Orlando, FL; and Seattle, WA. Mr. Wootton graduated from Southwest Onslow High School in North Carolina before earning his BSE degree from Southern Arkansas University.
Glenn began his teaching career in 2000 as the Alternative Learning Environment instructor at Magnolia High School. In 2004, he transitioned into his role as an English teacher at Magnolia Junior High School.  During his fifteen years at MJHS, he has taught seventh or eighth grade English.
Mr. Wootton prides himself in the utilization of technology in his classroom. In recent years, he made his curriculum, assignments, assessments, and reading selections available online through Office 365 or his school website.  His use of technology is beneficial for parents and students to access the required classwork.  Glenn is also responsible for maintaining the MJHS website. In addition to his teaching responsibilities, Mr. Wootton also drives a bus for the district.
Mr. Wootton is the father of two sons. In his spare time, he does housework and likes to paint landscapes. He is also currently working on a children's picture book.
From: Scott Nipper
Special Programs Coordinator
Magnolia Public Schools