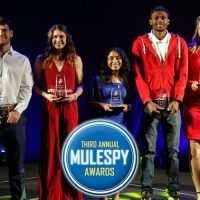 The annual sports awards were handed out Monday night at the Mulespys, the annual sports award show at Southern Arkansas University.
The highlight of the evening was the presentation of the Athlete of the Year Awards. The Dr. Margaret Downing Female Athlete of the Year Award went to Elisa Favela of softball, and the Auburn Smith Male Athlete of the Year Award went to Ka'Ronce Higgins of football and men's track & field.
The male and female Murphy USA Scholar Athlete of the Year awards went to Jordan White in football, and Carley Hale in women's cross country.
The full story from MuleriderAthletics.com is available by clicking HERE.