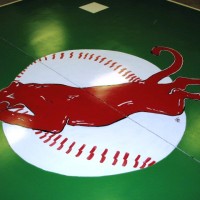 PANTHERS SECURE REGIONAL BID WITH VICTORY
The Magnolia Panthers secured a spot in the upcoming regional baseball tournament with a 6-3 win over Hamburg Monday in Magnolia. The Panthers remain in a second place tie in the conference with Camden Fairview with one game remaining.
The win didn't come easy for the Panthers. Hamburg, who came into the game with only 1 conference victory, scored 3 times in the second to take an early 3 to 0 lead. Magnolia answered right back with 4 in the third inning to take a lead they would never relinquish. In the 3rd, Garrett Clark was hit by a pitch to start the inning. Connor Harrington would follow with a single. With one out, Dayton Dickson singled to score Clark. Adam Pieratt walked, then Kevin Zhao delivered a two run single to tie the game at 3-3. Kyle Carver drove home the final run of the inning with a sacrifice fly to give the Panthers a 4 to 3 lead.
Magnolia would add 2 runs in the 6th to give the Panthers some breathing room. Clark started the rally with a single. He would score on a Payton Campbell double. Dickson then doubled to drive home Campbell with the Panthers final run of the game.
Pieratt would go the distance on the mound for the Panthers. After allowing the 3 runs in the second, Pieratt would allow only one more baserunner the remainder of the game, and that runner would be erased on a double play as he faced the minimum 16 batters over the final 5 and 1/3 innings. Pieratt would strike out 10, and allow only 5 hits, all in the first 2 innings. Pieratt did not walk a batter as he improved his record to 4 and 2 for the season.
The Panthers had 11 hits for the game, led by Zhao and Clark with 3 hits each. Dickson had 2 hits, while Harrington, Campbell and Eli Ward had 1 hit each. Pieratt walked twice, with Clark and Harrington walking once each.
The Panthers are now 12 and 6 for the season, 7 and 4 in conference play. Magnolia has now qualified for postseason play 16 season in a row, and 24 of the last 25 seasons. The Panthers finish conference play with a game against Warren Tuesday in Magnolia. It will serve as senior day for the Panthers. The Panthers 6 seniors will be recognized prior to the game. Panthers Seniors are Connor Harrington, Dayton Dickson, Blake Bohannan, Payton Campbell, Garrett Clark and Peyton Carter. Game time Tuesday at Panther Field will be 4:30. You can hear the game live on Classic Hits KVMA, 630 AM and 107.1 FM.