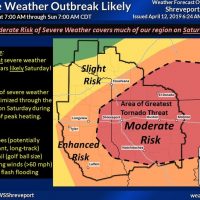 A Moderate or Enhanced Risk for severe thunderstorms covers much of our region on Saturday. Strong to severe storms will likely begin to develop during the morning hours, but the timing of greatest risk is expected during the hours of afternoon peak heating and possibly extending into the early evening hours. There will likely be multiple rounds of storms throughout much of Saturday into Saturday night. Large hail, damaging winds and tornadoes will be the primary threats. Locally heavy rainfall may also lead to isolated flash flooding.
The following is information in a Hazardous Weather Outlook from the National Weather Service in Shreveport, LA, issued at 1215 PM CDT Fri Apr 12 2019.
This Hazardous Weather Outlook is for portions of south central Arkansas, southwest Arkansas, north central Louisiana, northwest Louisiana, southeast Oklahoma, east Texas and northeast Texas.
.DAY ONE…This Afternoon and Tonight…
Thunderstorms will gradually increase in coverage late tonight. A few storms could be severe, especially along and north of Interstate 20 in east Texas, extreme Northwest Louisiana, extreme southwest Arkansas, and southeast Oklahoma. Large hail will be the biggest threat. Locally heavy rain may also lead to isolated flash flooding.
.DAYS TWO THROUGH SEVEN…Saturday through Thursday…
A low pressure system will move from central Texas across the ArkLaTex and into Arkansas Saturday into Saturday night, bringing a potential tornado outbreak to the area with severe thunderstorms likely. Initially on Saturday morning, large hail and damaging winds will be the primary threats during the morning hours, mainly north of Interstate 20, ahead of a northward moving warm front.
By late Saturday morning into the afternoon, most of the Four State Region will be within the warm sector. Multiple rounds of severe thunderstorms are expected. Tornadoes, damaging winds, large hail, and locally heavy rainfall will be possible. In far east Texas, southern Arkansas, and northern Louisiana, a few of the tornadoes may be strong, long-tracked tornadoes. Rainfall amounts of one to three inches are likely, which may lead to isolated flooding. The severe weather threat should quickly end shortly after midnight Sunday morning.
More thunderstorms are possible late Tuesday through early Thursday. Some of these storms may be strong to severe Wednesday and Wednesday night. In addition, heavy rainfall may lead to a renewed threat for flooding.
.SPOTTER INFORMATION STATEMENT…
Spotter activation is not expected tonight, but will be needed on Saturday.