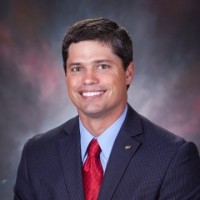 Jeff White has released the following press release announcing his candidacy for the Magnolia City Council:
"Jeff White believes he has the leadership and experience to help Magnolia prosper while keeping a balanced budget.  White, a lifelong resident of Magnolia, has served on many boards and commissions including the Magnolia Planning Commission, SAU Alumni Board, and the Boys and Girls Club.  He is proud of the progress each of those organizations have made throughout the years he has served and has decided it's time to take the next step.  White has officially announced his candidacy for Magnolia City Council, Ward 4.
White believes there is a need to get millennials engaged in community leadership and volunteerism for the future development of Magnolia.  His involvement in the community and various organizations gives him a platform to encourage others to become active and productive members of our community.
White has been employed by Farmers Bank & Trust for the past 16 years and is currently Vice President of Lending.  He states that it is pertinent that the city stays on top of its finances and believes the council has done a great job in doing so.  His strong banking background will be helpful in continuing to have a balanced budget.  White received a bachelor's degree in Business Administration from Southern Arkansas University and is a 2016 graduate of the Barret Graduate School of Banking in Memphis TN.
While President of the Chamber of Commerce Board, White also served on the Magnolia Economic Development Corporation board and has a full understanding of the process and necessity to bringing new businesses to Magnolia.
Jeff has also served with the Magnolia Jaycees, United Way of America, Leadership Magnolia and is a member of First Baptist Church in Magnolia.  He has two sons, Christian and Caleb.
"There is a bright future ahead for Magnolia and I want to do my part in its achievement," says White.  "I would appreciate your prayers and support.""