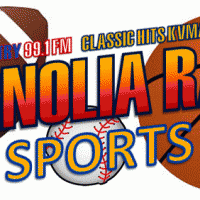 We are happy to bring you Southern Arkansas University and Magnolia High School sports on Magnolia's Country 99.1 and on Classic Hits KVMA. But we couldn't do it without our sponsors. Please thank these businesses, firms, agencies, offices, individuals, etc. for sponsoring these events. It is an expensive undertaking to broadcast these sports events from all parts of Arkansas and Oklahoma. Again, we couldn't bring you these broadcasts without the support of our sponsors. So please say "Thank you" to the sponsors and please support the sponsors, and we would enjoy your input as well. We would also like to thank you for listening and thank you for your support. Here are those who help make it happen, in no particular order:
Shelter Insurance agent Gary Don Farrar,
Magnolia Cleaners,
the Law Offices of Crane, Butler & Phillips,
Doctors Davis & Chambliss,
Edward Jones – Mark Woods, Steve Hardy & Laura Crowell,
Columbia County Ambulance Service,
David H. Cole Family Dentistry,
Magnolia Coca-Cola/Dr Pepper Bottling Company,
THANK YOU SPONSORS! WE COULDN'T DO IT WITHOUT YOU.